Make Your Own Jimmy 'Shoo'
Guest Instructor- Miranda Miele aka: 'The Pineapple Princess'
Introducing the new "Make Your Own Jimmy Shoo" course!  -In under 20 minutes, you will learn how to craft your OWN pair of designer heels at a fraction of the cost. Unlock your inner fashionista & transform a pair of heels into a stunning designer masterpiece! 🤩👠 Our beginner-friendly online course is here to ignite your creativity & unleash your DIY magic.🌟
Course Details:
– Classes can be taken at your own pace & you start when you are ready. 
– You can rewatch the lessons however many times you like.
– Your purchased courses never expire!🙌
🌍 Sustainable Style: Discover the art of upcycling as we breathe new life into pre-loved heels if you opt to get yours secondhand as well, giving them a glamorous makeover that Mother Earth will approve of. 🌿💚
📚 Secrets of Seamless Perfection: Our expert instructor Miranda will spill ALL the beans, revealing her tried-&-true techniques for flawlessly adhering pearls with craft glue.
🛠️ Best Supplies, Best Results: We've got you covered! Learn all about selecting the perfect materials for your fabulous transformation.
🔧 Beginner Friendly: No prior experience? No worries! Our course is tailored for beginners, guiding you through each step with clear instructions & helpful tips. You'll be amazed at how easily you'll master the art of pearl-adorned heels.
Enroll now & start strutting in your own one-of-a-kind designer heels today! 💃✨
What You Will Learn In This Course
Step-By-Step Instructions For Applying Craft Glue To Ensure A Secure Bond.
Proper Preparation Techniques For Your Heels.
Techniques For Arranging Pearls To Create An Aesthetically Pleasing Design.
Strategies For Fixing Any Mistakes Or Imperfections During The Gluing Process.
Advice On Finding Affordable Supplies & Materials On A Budget.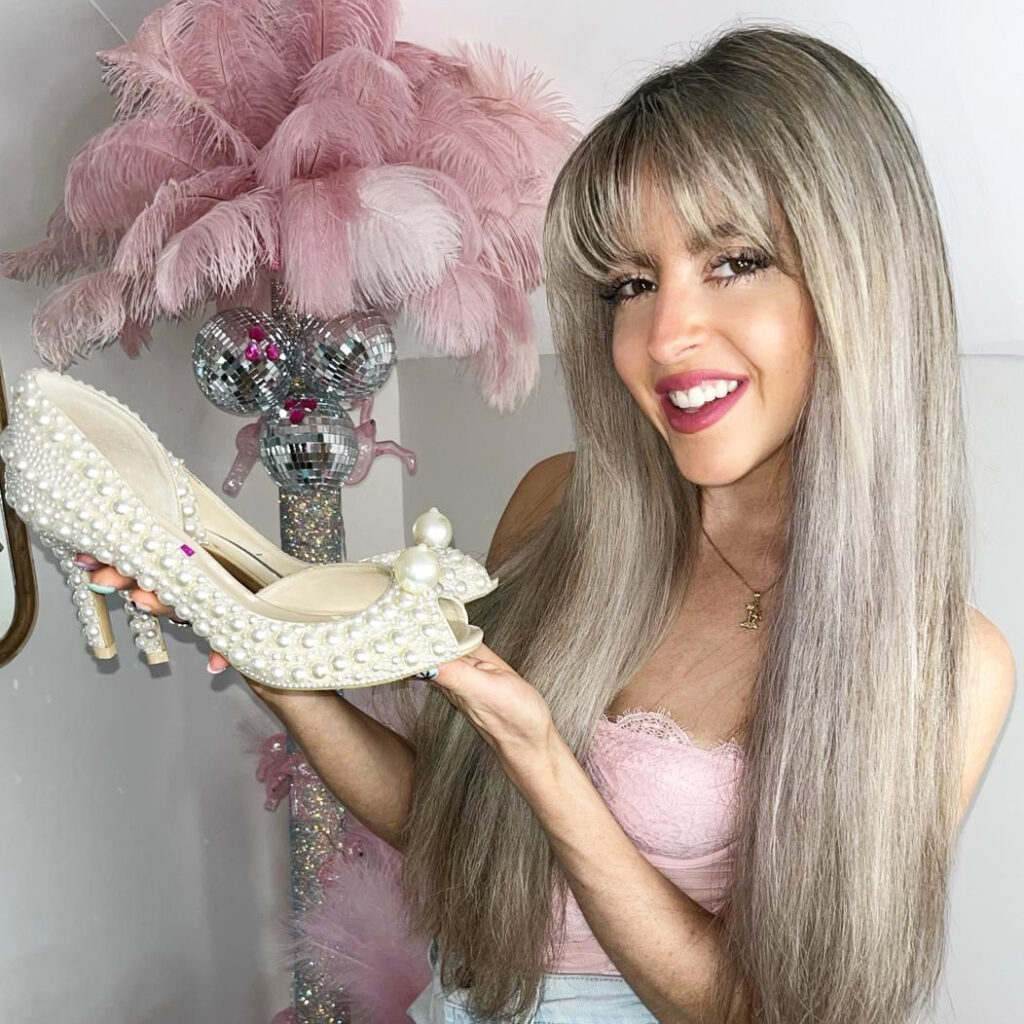 I'm Miranda Miele, a.k.a. Pineapple Princess: DIY Master Creator! 'Pineapple Princess' is my embodiment of the tropical and fabulous life I cannot get enough of. I believe you don't need any excuse to incorporate palm trees, coconuts, disco balls, flamingos, and maybe even feathers into everyday life.
I started the Pineapple Princess Creations platform a little over 3 years ago when I was laid off from my job at the start of the pandemic. Forced to stay home, I began upcycling all the furniture and clothing in my house and posting my tutorials online. I received an overwhelming amount of feedback that my videos were providing some joy and distraction during that difficult time, and from then on I never stopped creating! I believe there are no skills that can't be taught: take it from me!
My self taught crafting skills include bedazzling, thrift flipping, fake cake decorating, disco tiling anything and everything, and so much more. Some of my favorite DIY projects include my Halloween costume made out of Flamin' Hot Cheeto's Bags, upcycling my 93 year old grandmother's wedding dress to wear to my engagement photos, transforming a shower curtain into Lady Gaga's meat dress, and of course… ALL my heel upcycles.
I recently even DIY-ed every aspect of my wedding… from custom tiki mugs right down to my bedazzled wedding heels. Through The Pineapple Princess Creations platform, I will take you from the start of a project right through the finish to teach you the skills you need to create your own DIY masterpieces. I hope you'll tap into your creative side: and maybe even add a little extra sparkle along the way! I am beyond excited to partner up with Kelly on her learning platform and hope I can inspire you to create a DIY fabulous life with me!